A quarter or more of Virginia flue-cured remained to be harvested on October 1. Here, workers put leaf in balers on a farm near Skipwith, Va.
GEORGIA & FLORIDA--
The last of Georgia's tobacco was expected to be harvested by today. Florida's harvest was finished several weeks ago. Serious problems were experienced with tomato spotted wilt virus and black shank this season. But J. Michael Moore, Georgia Extension tobacco specialist, says this was not the worst season for Deep South tobacco. He estimates that Georgians might average 2,100 pounds per acre on 13,000 acres, putting production in the range of 27 million pounds. Floridians may have averaged 2,600 pounds per acre on around 1,500 acres. for about four million pounds production...This was one of the worst years for tomato spotted wilt virus in the last 10, says Moore. The likely cause: favorable conditions in the spring for plants that serve as host plants for thrips, which spread spotted wilt.
SOUTH CAROLINA--
All South Carolina's tobacco has been harvested, says William Hardee, S.C. area Extension agronomy agent for Horry and Marion Counties. Most was finished the last full week of September. It has been wet. "It seemed
we had a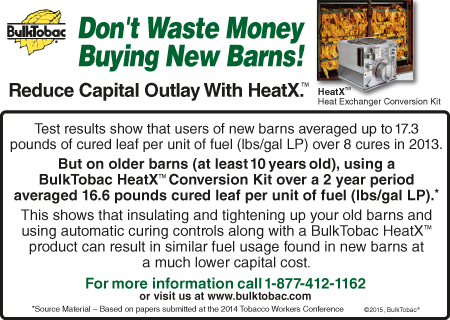 month
when we were dry and then a month when we had nothing but rain." The rain was less of a problem because most was out of the fields when it started. The heat, on the other hand, brought on diseases. "Bacte-rial wilt was the big problem, along with black shank," he says. He adds that it appears the quality will be decent.
NORTH CAROLINA--
Harvest continues at a very fast pace, says Matthew Vann, N.C. Extension tobacco specialist. "It is extremely fast ripening, and now we are backed up against first frost." Hurricane Hermine and the rains that followed it caused some 'green up' in the east because plants got access to nitrogen, he says. "That might interfere with ripening, but on the other hand, it might lead to a little more holdability." The Piedmont got very little rain as a result of the hurricane and tropical storms, he says.
VIRGINIA--
A quarter or more of the Virginia flue-cured crop remained to be harvested on October 1. "Parts of this crop are going to be very late," says David Reed, Virginia Extension tobacco specialist. "It had been very dry. We have had rain over the
entire tobacco area over the last 10 days, and now our tobacco is respond-ing to the rain. Farmers hope for a late frost." Production might approach con-tracted poundage if farmers can harvest it all.
The quality so far looks good.
The intense May rains in the Piedmont that brought trans-planting to a tem-porary halt really caused farmers a management prob-lem: They had what was essentially two different crops--an early one and a late one. "Farmers found themselves having to cultivate one field and top another and prime still another, all at the same time," says Reed...
The north end of the tobacco belt seemed to have had better luck with the weather, said Chris Brown, Franklin Co. Extension agent. "We got rain most of the season."
KENTUCKY--
A very hot and dry September made it difficult to harvest in the Bluegrass, and cutting and hanging was moving slowly in much of the state. Jerry Rankin, a grower and owner of Farmers Tobacco Warehouse in Danville, estimates that perhaps 80 percent of the burley crop is in the barn. "We will be short of what the trade needs, maybe by 25 percent," he says. "We had one rain in August, then it was dry until we had a few showers last week. This is a thin crop." He noticed that when you cut tobacco one day and left it in the field, it would burn by the next day. "It dang near 'field cured'," he says. The first tobacco he cut is nearly done, and he plans on starting stripping the day he finishes harvest.
TENNESSEE--
From 90 to 95 percent of the Tennessee burley crop has been harvested, says Don Fowlkes, manager for agronomy for Burley Stabilization Corporation. "Despite the dry weather, the curing is mostly okay so far in East Tennessee. Some is a good solid color already. But we have a lot of disease in the lower stalk positions." It was dry the whole season long but the crop could still turn out well. Market preparation could get going in earnest soon. Fowlkes knows of one farmer in southeastern Tennessee who started stripping last week. He is the first one Fowlkes has heard about. In middle Tennessee, there was so much rain in the early season to late July, then it got dry in August. The leaf is more thin bodied and the tips are ragged. The quality will be better in the upstalk rather than downstalk.
NORTH CAROLINA--
Cutting and hanging in western N.C. seems to be complete, but no one is stripping yet. "It has been extremely dry," says Stanley Holloway, N.C. Extension burley coordinator. "But the crop was deep rooted so when it got some rains late in the season, it responded well. Now, it has ended up a pretty decent crop." But there could be a danger of flash curing if it continues dry," he says.
DARK
BLACK PATCH
--
Harvest of dark fired and dark air in Kentucky and Tennessee is almost over. "We are all but done," says Andy Bailey, Ky./Tn. Extension dark tobacco specialist. "The few remaining fields will be harvested this week." Quite a bit of this tobacco had to be harvested early because of angular leafspot and bacterial soft rot. "This is the worst crop I have seen in the 14 years I have been here in Princeton, Ky.," Bailey says. "We will probably fall 25 percent short of our potential." But the quality of the cured tobacco, which is just now being stripped, looks satisfactory

.
VIRGINIA--
Harvest of dark fire-cured was complete in September, with curing reportedly proceeding well. But it was a tough season. In Appomattox County, conditions
were excessively wet through layby. "Then the rain stopped,"
says county Extension agent Bruce Jones. The drought wasn't broken until September 19. It was the first substantial rainfall in over two months.