A quality strategy: Flue-cured grower Richard Todd of Wendell, N.C., wants to maximize
his leaf quality in 2016.
Quality will definitely determine who gets contracts in the future and who doesn't, says Richard Todd of Wendell, N.C., who farms with his son Joe. "The companies will look at who produces the best tobacco." There are many practices that can help--in recent years, the Todds have gotten a quality boost from some new curing barns. "We bought a World Tobacco barn three years ago (above) and have since bought two more." The best thing about them is the quality of the cure, he says. "That is mainly because of the airflow and the amount of insulation."
Germination delay
may occur
in greenhouses in some regions of North Carolina, so it might be wise to add fertilizer a few days later than normal. "Standard practice is to
wait seven to 10 days after seeding before adding fertilizer to the floatbed to hedge against injury from solu
ble salts," says Matthew Vann, N.C. Extension specialist. "Waiting until 10 to 12 days is probably not a bad idea, but I would not wait any longer than 14 days--uneven growth could occur, with older seedlings rapidly outpacing the younger ones."
Short volume but better quality: The 2015 burley crop was short, says Steve Pratt, GM of the Burley Tobacco Growers Cooperative Assn. in Lexington, Ky. "We didn't get all the pounds we contracted for. But it was of better than expected quality. Expectations had been low on the early crop because we had a lot of rain. But the weather during curing was good enough that it allowed the leaf to recover." The cooperative will probably start contracting in March and will be looking to sign up about the same volume or a little less than it did a year ago.
Contracting should also start soon
for Burley Stabilization Corporation (BSC), the coop in Springfield, Tn. Daniel Green, BSC chief operating officer, says that despite excessive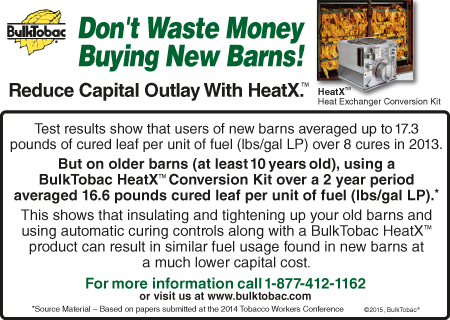 rain growers produced about what had been anticipated. "There was little low quality tobacco in this crop," he says. "It was a bit on the thin side, but is very useable tobacco." There may be a small increase in the coop's contract volume, he says.
Burley

decline:

2,805 farmers in Kentucky grew burley in 2014, according to an update from BTGCA that was shared at its annual meeting. That was 448 less than the year before and 560 less than 2012. "These numbers reflect a trend that most likely continued in 2015 and will carry forward for 2016," the update said.
New flue-cured leader:
Clay Strickland of Clinton, N.C., was elected president of the Tobacco Growers Association of North Carolina at its annual meeting in Raleigh, N.C.,
on February 5. There will be just one way for N.C. growers to get ahead of the current market, he says, and that will be to produce quality leaf. "The outlook now is not real good, and I have to feel a little pessimistic."
New burley leader:
Burley
Grower Greg Harris
of
Richmond, Ky., was elected to a two-year term as president of t
he Council for Burley Tobacco at its annual meeting
.
"Insurance fraud, contract uncer-tainty and labor/ immigration are a few of the issues our board has made as priorities for the year ahead," he said.
David Chappell,
Sparta, Ky., was elected
vice president.