Young seedlings were growing well at the end of February on this farm near Raleigh, N.C.
Seeding wrapped up on March 2 on Tyson Family Farms in Nashville in the Eastern Belt of North Carolina. "In the first greenhouse we seeded, the plants are up," says Sharon Tyson. "We hope to have enough plants for 400 acres." It will be all flue-cured, with perhaps as much as 35 acres organic.
A new burley variety for a niche market:
KT 215 features excellent resistance to fusarium wilt and race 1 black shank and was released this year. But only a limited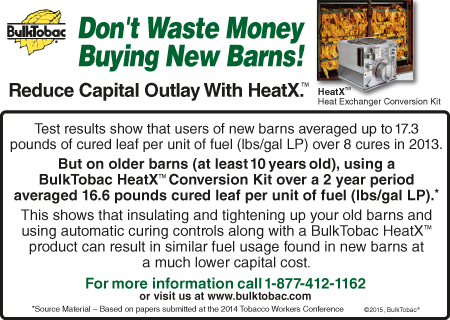 supply of seed was produced and it is already sold out for this season. Adequate supplies should be available for 2017, and it will be a good choice if you are one of the small number of farmers dealing with both those diseases. If you don't have both, you are probably better off planting one of the existing varieties, says Robert Miller, the Kentucky-Tennessee breeder who developed KT 215. That's because unlike most varieties generally planted now, KT 215 has no resistance to potato virus Y, which could become a problem in a hurry.
Where would KT 215 fit best? Miller says you find fields with both fusarium wilt and black shank most often along the Ohio River and in an area of western North Carolina in river bottoms where tomatoes were once grown extensively, which built up fusarium. "It is seldom found in Tennessee," he says.
Grower numbers down in Kentucky: 2,805 farmers grew burley in Kentucky in 2014, according to a report from Burley Tobacco Growers Cooperative Association. That was 448 less than the year before and 560 less than 2012. "These numbers reflect a trend that most likely continued in 2015 and will carry forward for 2016," the report said.
Tyson was one
of 21 farmers and 21 agriculture professionals who participated in the recent 2016 N.C. State Tobacco Short Course, taking part in two days of classroom studies on everything from how best to produce plants in greenhouses to optimizing curing of leaf to participating in a flue - cured tobacco grading session. One of the high points was a day-long session on grading, taught by USDA-AMS specialist Bobby Wellons. "Since the industry faces continuous change, we need to make sure our younger farmers, their advisors, and industry representatives are able to focus on how to attain efficient production of quality tobacco," says Bill Collins, co-director of the course, which is conducted by the North Carolina Tobacco Foundation, in partnership with the College of Agriculture and Life Sciences at N.C. State University and the Tobacco Growers Association of North Carolina. Funding for the program is provided by the North Carolina Tobacco Research Commission. Participants in this course were:
Growers: Person County--
Daniel Adcock, Greg Garrett and Hunter Thomas. Johnston County--Hunter Langdon and Austin Benson. Wilson County--Russell Davis and Daniel
Sharp. Nash County--Ashley Fisher, Sharon Tyson, Hailey Askew and Matt Batchelor. Bertie County--Nick Morris and Sid Copeland III. Beaufort County--Dodge Buck III, Jody Arnold and Ryan Hardison. Hertford County--Will Hawthorne and Denton Spruill. Franklin County--Nick Bell. Caswell County--Coty Redding. Rockingham County--Josh French.
Advisors
:
Extension Service Agents
--Zack Taylor (Lee County), Kelly McCaskill (Moore County) and Anna-Beth Williams (Washington County).
NCDA&CS Agronomy
--Jacob Searcy (Region 2); Daniel Overcash (Region 11).
NCDA&CS Research
--Chris Blackmon (Border Belt Research Station) and Daniel Williams (Central Crops Research Station).
USDA-Risk Management-
-Tonya Harris.
Carolina Precision & Consulting
--Tanner Smith and Taylor Branham.
Crop Production Services
--Matt Griffin.
Southern Bank
--Terri Stutts.
Tyton Bioenergy Systems
--Jennifer Atkins.
Waypoint Analytical
--Pauric McGroary.
RJR Tobacco
--Chris Buchanan, David Grimes and Matt Sain.
Hail & Cotton
--Will Borthick, Brad Price, Thomas Lowery and Bill Norfleet.
A young farmer and a career educator
were honored at the annual "Breakfast with the Commissioner" held by the Tobacco Farm Life Museum on February 5 in Raleigh at the Southern Farm Show. The
Innovative Farmer of the Year Award
went to Robert Elliott of Cypress Hall Farm of Louisburg, N.C. The
Excellence in Agriculture
award, sponsored by Wells Fargo, went to Richard H. Linton, Dean of the College of Agriculture & Life Sciences at N.C. State University.
A legendary tobacco agronomist received one of several awards given by the Tobacco Growers Association of N.C. on February 5 at the Southern Farm Show. Distinguished Service Award--Tobacco Agronomist W.K. "Bill" Collins. Extension Service Award--Charles Mitchell, Extension director, Franklin County, N.C. Outstanding Director--Jonathan Renn, Franklin County. N.C. Farm Family of the Year--Hinnant Farms. Lifetime Century Member--Donny McElveen.
TOBACCO FARMER NEWSLETTER
E
ditor: Chris Bickers

|

Bickers Editing Service

|

903-9 Shellbrook Ct.

|

Raleigh

NC

27609

|

919-789-4631