| | |
| --- | --- |
| Burley curing in a large open-sided barn near Lafayette, Tn. | |
Too much burley?
Jerry Rankin, owner of Farmers Warehouse in Danville, Ky., is worried about the supply/demand situation, "Before the bad weather at the end of the season, we were looking at maybe 28 million pounds of burley with no home. Now, because of the weather, it looks like more like 18 to 20 million pounds, but that is still enough that prices may not be too good." The Farmers Warehouse Tobacco will open
Tuesday
before Thanksgiving at
9:30 a.m.
, and most others will open that week or soon after.
Good season, bad end:
Rankin
says Central Kentucky had a very good crop for most of the season until weather problems occurred late. "The season ended really bad. We had two weeks when rain fell nearly every day. It was too much, and the tobacco in field suffered." It was a common sight to see leaves falling from some stalks. "The frost hit while a lot of tobacco was on the stick, wilting," he says. "I saw some farmers pulling out their sticks and leaving the tobacco. Very little that was produced after the first week of October will be a quality that anyone will want."
Higher yield needed:
Larry Thompson of Bagdad, Ky., between Louisville and Lexington, says perhaps 10 percent of the local crop was still in the field when the weather turned cold. He doesn't know whether any of it will be usable. Fortunately for him, he'd gotten all his burley cut by the end of September. Stripping of his 50-acre crop is about a third finished now. His traditional varieties seem to be declining in yield, and he thinks a new high-yielding variety, HB 4488, could play a bigger part on this farm as a result. He wound up with some overage beyond his two contracts. At this point, it looks like he may not average more than $1.30 a pound on it. "That is a big comedown from $2 a pound last year," he says.
Disappointing sales in N.C.: Brent Ward of Elk Park, N.C., grew two acres this year of burley and sold some of it on November 11 at the Old Belt Warehouse in Rural Hall, N.C. The highest sold for $1.30 a pound. Some of it sold for $1.10. Ironically, this was some good tobacco. "Last year, I got a 2,000-pound yield on it. This

year the weather was a little better and I should be over that. I am hoping for 4,500 pounds for the two acres." The new KT 212 variety did well for him and he will use it again if he grows tobacco again. "I would like to put out tobacco next year but not if I am going to lose money on it."
New chemical for black shank:
Valent is likely to get a label for Presidio on tobacco early in 2015. It reportedly has good efficacy on black shank. It will be important to rotate it with other chemicals to prevent resistance, Extension specialists say.
Lucky Strike stack still smoking: The Commonwealth Brands cigarette factory in Reidsville, N.C.--famous for its Lucky Strike smokestack--will continue to operate after its parent company, UK-based Imperial Tobacco Group, acquires the Lorillard Tobacco manufacturing, R&D facilities, corporate headquarters buildings and some 2,900 employees in Greensboro, N.C. Commonwealth-Altadis, Inc., which was formed in 2010 by Imperial Tobacco by combining Commonwealth Brands and cigar maker Altadis USA and is headquartered in Fort Lauderdale, Fl., also will become part of Imperial's new American entity, ITG Brands. All of this is dependent on regulatory approval,which is expected this coming spring, but if all goes as planned, Imperial will acquire Reynolds American's Kool, Salem and Winston cigarette brands and Lorillard's blu eCigs and Maverick cigarette brands. (It has been speculated that Reynolds American's Doral cigarette may also wind up in Imperial's hands.) Also part of the deal: Lorillard's tobacco receiving and storage facilities in Danville, Va. Blu eCigs will continue to be based in Charlotte. Commonwealth-Altadis' brands include USA Gold, Montclair and Sonoma cigarettes, and Dutch Masters, Backwoods and Phillies cigars.
UPCOMING GAP RECERTIFICATION MEETINGS
NORTH CAROLINA (Flue-cured)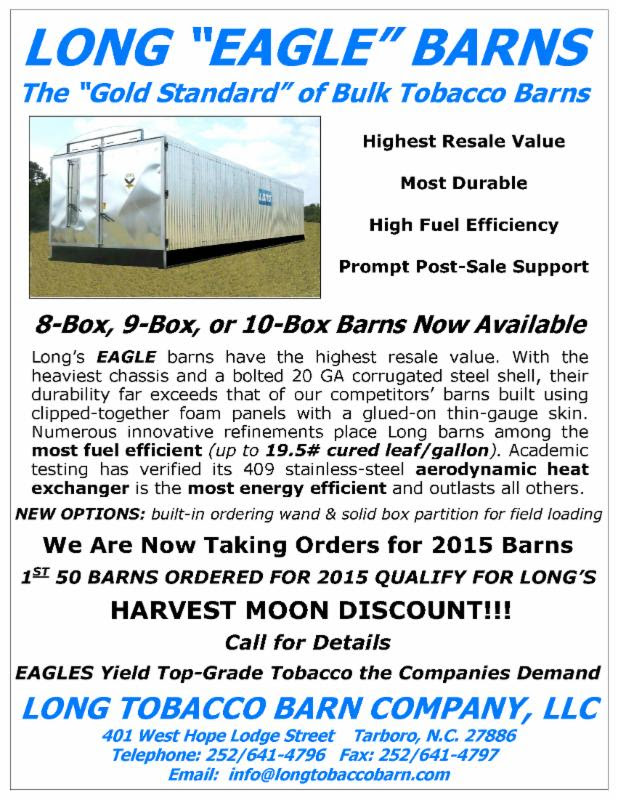 1723 Goldsboro St. SW, Wilson, N.C.,
in the old Liberty Warehouse
Greg Goins is the auctioneer at Big M Warehouse.
We will hold both sealed bid auctions
HONEST AND TRUSTWORTHY
SERVICE
We will be GAP certified
FARMERS TOBACCO WAREHOUSE
209 Harding St.,
Danville, Ky.
Full-service burley warehouse
Jerry Rankin, Owner
Opening

Tuesday, November 25 at 9:30 a.m.

Call for information.