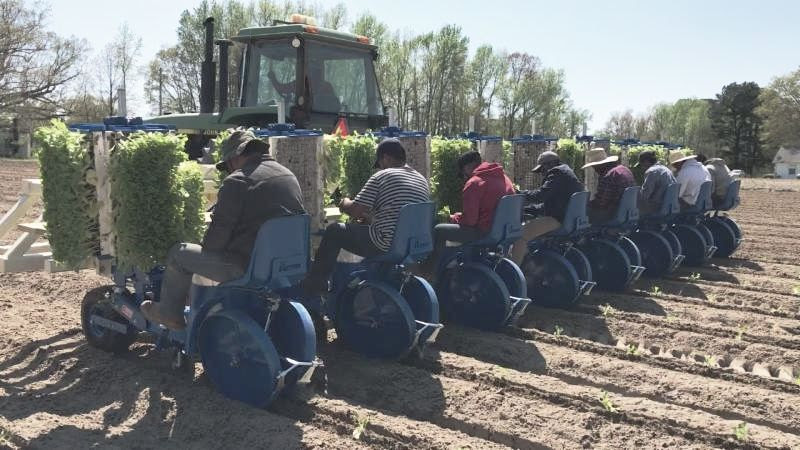 Farmers began planting in Florida and Georgia on a limited basis in the past week. Setting should reach full speed in two weeks.
(File photo of Ferrari F-MAX transplanter courtesy of Granville Equipment, Oxford, N.C.)
Planting began last Tuesday
around Gainesville, Fl., says
J. Michael Moore, Georgia Extension tobacco specialist
, and started yesterday in Georgia around Jesup. "These growers had all been able to get Telone II in early, and with soil conditions good, they decided to ahead and set out," he says. All tobacco in both states is flue-cured.
Some more will plant
in the next few days, but Moore expects that planting won't begin in earnest in Georgia for another two weeks. There might be a risk in planting this early, he says. "It is before the April 7 date we usually think of as the end of the
first flight of thrips." A high rate of thrips could mean more problems with toma-to spotted wilt.
The winter was mild
in Georgia
so there will be plenty of host plants for thrips to spread, he adds.
No planting
has occurred
in North Carolina, says Matthew Vann, N.C. Extension tobacco specialist
. "But it is safe to say that our seeding efforts are behind us in the flue-cured areas, although much of the burley crop remains to be seeded," he says. Flue-cured seedings in the state fall generally a quarter to half way through their development.
Houses seeded around Valentine's
will be ready for planting around mid-April, Vann says.
Flea beetles were an unexpected problem
on burley in middle Tennessee and Kentucky last season, says Eric Walker, Tennessee Extension tobacco specialist.Admire in the green-house is a good stra-tegy, and a relatively newchemical,
called either Exirel or Veri-mark has given good control in field de-monstrations. But more research is needed.
A tool for

tomato spotted wilt: Exirel/ Verimark is also labeled as a tray drench for tomato spotted wilt control and has been tested in Georgia. Some reduction of the disease can be obtained, says Moore, but

more research is planned before any recommendations are made.
Cutting back
to reduce hired labor: Tom Ingram, a burley farmer from Shelbyville, Ky., says he will cut his plantings from 25 acres in 2018 to about 10 acres this season. Scarcity of labor is the main reason. "If I make this cut, I will be able to 'barn' my
tobacco with the family labor I have," he says. "I have been able to find enough local labor to harvest [in the past] but it is just getting too hard to find them." H2A guest workers would be available but the farmer thinks he would need at least 70 acres to justify the management work that program would require. He doesn't have the infrastructure to grow that much.
The basics of hemp production, Part 1:

Although industrial hemp has been touted as a low-input crop that is highly adaptable to marginal lands, maximum yields are realized with inputs equivalent to current grain production systems and on productive land. If maximum industrial hemp yields are your goal, select good corn land with deep, well-drained soils and plan on inputs equal to current grain crops. If maximum yields are not the goal, industrial hemp can be expected to perform on marginal lands with lower productivity and with reduced inputs much the same as our current commodity crops would.--Derived from writings of D.W. Williams, Plant and Soil Sciences, and Rich Mundell, Kentucky Tobacco Research and Development Center.
Happening this week:
T
he annual meeting of the Council for Burley Tobacco, March 19, 4 p.m., Western Kentucky University Campus in Glasgow, Ky. Keynote speaker will be Kentucky Commissioner of Agriculture Ryan Quarles. To register, go to

www.councilforburleytobacco.com.
GAP GROWER TRAINING EVENTS
C
heck with your local Extension Service office for further details.
All meetings listed here are free and presented in English. Eastern Time except where indicated.
Mar 5, 1 p.m. West Union, OH
Mar 5, 2 p.m. Russellville, KY
Mar 5, 6:30 p.m. Georgetown, OH
Mar 6, 9 a.m. Georgetown, OH
Mar 7, 3 p.m. Central City, KY
Mar 7, 6 p.m. Greeneville, TN
Mar 7, 6 p.m. Abingdon, VA
Mar 8, 6 p.m. Ben Hur, VA
Mar 11, 10 a.m. Tifton, GA
Mar 11, 6 p.m. Springfield, KY.
Mar 12, 9 a.m. Murray, KY
Mar 12, 10 a.m. Marion, SC
Mar 12, 3 p.m. Hopkinsville, KY
Mar 18, 11 a.m. Lexington, KY
Mar 18, 6 p.m. Lafayette, TN
Mar 19, 6 p.m. Glasgow, KY
Mar 25, 9 a.m. Turbotville, PA
Mar 26, 9 a.m. Quarryville, PA
Mar 26, 1 p.m. Quarryville, PA
Mar 26, 6 p.m. London, KY
Mar 27, 9 a.m. Quarryville, PA
Mar 27, 1 p.m. Quarryville, PA
Mar 28, 9 a.m. New Holland, PA
Mar 28,1 p.m. New Holland, PA
Mar 29, 9 a.m. Mechanicsville, MD
Apr 4,
6:30 p.m.
Weston, MO
Apr 11, 6 p.m. Bedford, KY
Jun 25, 5 p.m. Hopkinsville, KY