Workers process flue-cured bales at the Big M Warehouse auction in Wilson, N.C.
About 300,000 pounds of burley
from North Carolina plus a little from Tennessee were sold at auction on December 14 at Planters Tobacco Warehouse in Asheville, N.C. But the results weren't as good as hoped. "The price range for most tobacco offered was $1.10 to $1.50 a pound," said warehouseman Billy Anders.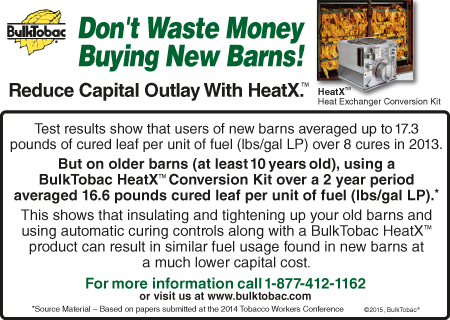 "The farmers were gene-rally discouraged."
One likely reason
for the low price was the preponderance of carryover from 2014 on the floor. Anders estimated that about 60 percent of the leaf was carryover, and it didn't find favor with buyers. More new crop burley had been expected but dry conditions over the previous 10 days made it difficult to strip leaf from the stalk and bale it. Now, substantial unsold burley
remains
on farms in western North Carolina, Anders says. "If there is enough interest, we may hold another sale at the end of January." For more information, call Anders at 828 777 8577.
A quarter million pounds were sold at this week's sale at the Big Burley Warehouse in Lexington, Ky., says manager Darby Montgomery. The practical top was $1.73 per pound for good cherry tips, he says, while low-quality tobacco from last season brought $1 or less. His rough estimate of the average price is $1.40 a pound, with a lot selling for $1.50 to $1.60. "If you had good quality, you did all right," he says. He expects to have much more tobacco to sell after Christmas.
Flue-cured auctions ended well.
"Some sold as high as $1.97 a pound, and some sold for as little as 20 cents," says Mann Mullen, owner of Big M Warehouse in Wilson, N.C. "We moved quite a bit of tobacco, and everyone seemed satisfied with the price.
All tobacco received a bid, and all was sold." Some of the flue-cured
brought to Big M was grown without a contract, says Mullen, but more of it was excess tobacco left over after the grower had achieved the "crop throw" requirements on his contract. "We heard time and again that once a farmer hit the crop throw, then the company didn't want any more," he says. "I am sure farmers with tobacco that fell out of crop throw were glad to have an auction." T
hanks to weather, top quality just was not there. "This was a domestic crop," he says.
Going against the grade: A grower who sold at the recent auction at Planter's Warehouse in Asheville says he had only 2014 carryover left to sell. It was still on the stalk, and he didn't think it feasible to pay $10 an hour or more to get a crew to work it off. Instead, he decided to strip it into one grade, which he could do himself. With the sale behind him, he thinks now he did just fine. "You can't afford to grade tobacco if you're paying $10 an hour for stripping," he says.
A lesson learned:
The 2015 flue-cured grown in eastern North Carolina was a dry weather crop that was hard to cure, says Peyton McDaniel of Whitakers, near Rocky Mount. In retrospect, he thinks planting earlier might have helped. "There were times when we couldn't harvest because of the weather and then we had a hard time getting our tobacco in before the rains came in September." That was particularly a problem on the organic tobacco he grows with brother B
illy McDaniel and cousin Phillip
Watson
. "We will start setting our organic tobacco a little earlier in 2016 so we can harvest earlier and still get it fully mature," he says.
Growers to meet:
The annual meeting of the Council for Burley Tobacco will take place January 16, at the Owensboro Convention Center during the Ky. Cattlemen's
trade show. The annual meeting of BTGCA will take place the day before at 1...The annual meeting of the Tobacco Growers Association of N.C. will take place from 10 a.m. to 1 on the last day of the Southern Farm Show (see next item).
Show time! The S.C. AgriBiz and Farm Expo is scheduled for January 13, and 14, 9 a.m. to 4 p.m., in the Florence Civic Center. The Southern Farm Show will take place February 3, 4 and 5 at the North Carolina State Fairgrounds in Raleigh, N.C. It will end on February 5. Watch for advance coverage of both shows in January issues of Tobacco Farmer Newsletter.
Winds that twisted
stalks
made sucker control difficult on burley in the Bluegrass, says Jerry Rankin, a farmer and auction operator in Danville, Ky. "We couldn't get in some fie
lds with high boys to spray MH because the tobacco was so tangled." Some tobacco didn't get any MH at all, he says.
UPCOMING GAP RECERTIFICATION MEETINGS
NORTH CAROLINA (Flue-Cured)
January 4, 9 AM Martin County Farmers Market, 4001 West Main St., Williamston, N.C. Contact Al Cochran at al_cochran@ncsu.edu/252-789-4370.

January 5, 9 AM. Farmers Market, 1006 Peachtree St., Rocky Mount, N.C. Contact Art Bradley at art_bradley@ncsu.edu/252-614-7815.
January 6, 9 AM. Wayne County Extension Center, 208 Chestnut St., Goldsboro, N.C. Contact Tyler Whaley at tyler_whaley@ncsu.edu/919-731-1527.
January 7, 9 AM. Johnston County Extension Center, 2736 NC Hwy 210, Smithfield NC. Contact Bryant Spivey at bryant_spivey@ncsu.edu/919-989-5380.
January 8, 9 AM. Wilson County Ag Center, 1806 Goldsboro St. SW, Wilson NC. Contact Norman Harrell at norman_harrell@ncsu.edu/252-237-0111.
January 15, 9 AM. McSwain Extension Center, 2420 Tramway Rd., Sanford NC. Zack Taylor at zrtaylor@ncsu.edu/919-775-5624.
January 19, 8:30 AM. Granville County Expo Center, 4185 US Hwy 15 South, Oxford NC. Gary Cross at gwcross@ncsu.edu/919-603-1350.
January 21, 9 AM. Lenoir County Shrine Club, 1558 Hwy 70 East, Kinston NC. Contact Jacob Morgan at jacob_morgan@ncsu.edu/252-448-9621.
January 22, 9 AM. Forsyth County Extension Ctr., 1450 Fairchild Rd., Winston- Salem NC. Contact Tim Hambrick at tim_hambrick@ncsu.edu/336-703-2857.

January 25, 9 AM. Pitt County Extension Ctr., 403 Government Circle, Greenville NC. Contact Lance Grimes at lance_grimes@ncsu.edu/252-902-1802.

January 27, 9 AM. Sampson County Ag Expo Center, 414 Warsaw Rd., Clinton NC. Contact Della King at della_king@ncsu.edu/910-592-7161.

January 28, 9 AM. Commons Area, 309 W Cornelius Harnett Blvd., Lillington NC. Contact Brian Parrish at brian_parrish@ncsu.edu/910-8937530.

February 5, 1 PM. Holshouser Bldg., NC State Fair Grounds, following TGANC Annual Meeting, Raleigh NC. Contact Matthew Vann at matthew_vann@ ncsu.edu/919-513-0904.
January 19, 9 AM. Southern Piedmont Center, 2375 Darvills Rd., Blackstone, VA. Contact Lindy Tucker at tucker07@vt.edu/434-696-5526.
January 20, 4 PM. Meherrin River Hunt Club, 435 Dry Creek Rd., Baskerville VA. Contact Taylor Clarke at cclarke@vt.edu/ 434-738-6191.
January 21, 4 PM. Olde Dominion Ag Complex, 19783 U.S Hwy 29, South Chatham VA. Contact Stephen Barts at sbarts@vt.edu/434-432-7770.
January 27, 10 AM Scottsburg Volunteer Fire Department, 3050 Scottsburg Rd., Scottsburg VA. Contact Lori Puryear at lorip@vt.edu/434-476-2147.
ADVERTISEMENTS
FARMERS TOBACCO WAREHOUSE
209 Harding St.,
Danville, Ky.
PH: 859-236-4932
Full-service burley warehouse
Jerry Rankin, Owner
Call for information.
1723 Goldsboro St. SW, Wilson, N.C.,
in the old Liberty Warehouse
Mann Mullen is the owner of Big M auction warehouse in Wilson, N.C.
We hold sealed bid auctions
HONEST AND TRUSTWORTHY
SERVICE
We will be GAP certified
A book for those with good memories of burley in Tennessee and North Carolina
A perspective on mountain burley
: Bill Harmon of Sugar Grove, N.C., grew burley for 51 years on the banks of the Watauga River near Boone. "It was the one crop you could just about be certain you would get rewarded on," he says. Read more about his experiences in "A History of Burley Tobacco in Eastern Tennessee and Western North Carolina."
Enjoy the recollections of
14 current and former burley growers along with a
detailed narrative of the history
of burley in America
stretching back to the Jamestown Era. It will be an ideal present for anyone who recalls the "old days" in burley with
affection
.
For a copy, send $25 to co-author Chris Bickers at 903-9 Shellbrook Ct., Raleigh, N.C. 27609. Or phone him at 919 789 4631 (or chrisbickers@gmail.com)
.