Seeking a higher price: Staff members at Old Belt Tobacco auction house in Rural Hall, N.C., cajole the buyers in hopes of getting a higher price for a bale of flue-cured. Warehouse owner Dennis White (center, yellow shirt) observes. File photo.
This season was one
that flue-cured growers will be glad to "look at in the mirror," says Matthew Vann, N.C. Extension tobacco specialist. "We had a great greenhouse season, but it seemed nothing went well after that." He thinks 2,100 pounds an acre is probably a good estimate of the state yield. For 2016, he says the N.C. Extension tobacco team will emphasize that farmers harvest four teams and strict separation by grades. "To have a future, you want to make sure that your buyers get what they pay for," he says.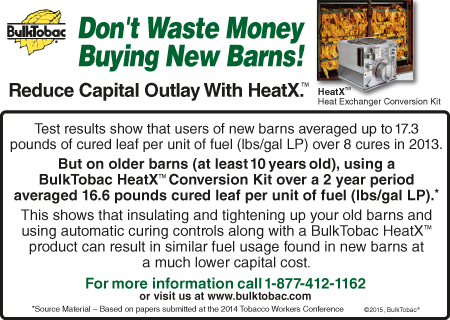 The Piedmont, N.C.,flue-cured crop really took a hit from the frost in October

. "We were short at this house," says Dennis White, owner of Old Belt Tobacco Sales in Rural Hall, N.C. "But we wouldn't have been short at all if it hadn't been for the frost." A lot of tobacco was still in the field at that time, he says. "And it was perfect too." Some was pulled anyway and sold for 90 cents to a dollar. A sign of just how bad this season was: One grower in the area still has about 10 acres that he thinks he can harvest if he can get a crew together, despite the frost. "He knocked the top leaves off and it looks okay," says White. "The green is definitely gone."
White may auction some burley at the Old Belt warehouse if enough growers want him to. "Some has been delivered here already, but it wasn't much and I bought it myself," he says. He has heard there may be enough interest for a one-day auction in

Asheville.
Predictions of a short burley crop seem to have been right on the mark. "The volume is just not there," says

Jerry Rankin, a farmer and

auction operator in Danville, Ky. "At my warehouse, we sold 240,000 pounds at our first sale last week. We had another 60,000 pounds, but this tobacco had quality issues, and I suggested that they get it graded before the sale. I believe it will prove to be a wise decision but it meant we couldn't sell it then."

What he did sell averaged $1.60 a pound. "We had a few crops that brought $1.65 to $1.75. This was good domestic tobacco, but not ones." The price seems likely to go up, Rankin says. "With so many farmers coming up short--maybe by 40 percent--I think what we are going to see is that the price will get higher as we go along." One of the few reasons for optimism:

An improvement in quality for burley still in the barn seems likely. "A lot of tobacco is still hanging," Rankin says. "We had two weeks of dry weather, and you couldn't get close to touching it. But now we have had fogs, and the tobacco is coming in and out of case. It will take on a darker color."
Editor's Note: As best I can determine, the warehouses conducting burley auctions are as follows. If there are any others, please me know at the telephone number or email address listed above: Clay Tobacco Warehouse

,

Mount Sterling, Ky. Contact

Roger Wilson at

859 498 6722.

Big Burley Warehouse

,

Lexington, Ky. Contact Darby Montgomery at

859 233 9944

.

Farmers Tobacco Warehouse

,

4540 Perryville Rd., Danville, Ky. Contact Jerry Rankin at

859 319 1400

.
Black shank was a big problem
on flue-cured in 2015, even where a good rotation had been followed. But Vann says rotation should still be the first step in black shank control. "The conditions this season were unusual and probably won't be repeated every year." There will be no new varieties in 2016 but there will be a new chemical--Orondis from Syngenta. With the relatively new fungicide Presidio and the standard fungicide Ridomil, growers have a good fungicide package, says Vann. "Consider using all the tools available," he says.
The low prices for flue-cured lead to a lousy close to the season. "Other than organic tobacco, there will be few tobacco farmers who made any money this year, with many experienced and superior growers losing substantial amounts of money," says Taylor Williams, Moore County (N.C.) Extension tobacco agent. "(It was) a year that was a perfect storm for impeding growth, yield, harvestability and quality."
A yes vote on research: The North Carolina referendum to on whether to continue the checkoff for tobacco-related research and extension programs at the state university passed in November with a yes vote of 94.5 percent of the farmers participating voting yes. As a result, tobacco farmers--both flue-cured and burley--will be assessed 10 cents for every 100 pounds of tobacco sold, as in recent years.
ADVERTISING
FARMERS TOBACCO WAREHOUSE
209 Harding St.,
Danville, Ky.
PH: 859-236-4932
Full-service burley warehouse
Jerry Rankin, Owner
Call for information.
1723 Goldsboro St. SW, Wilson, N.C.,
in the old Liberty Warehouse
Mann Mullen is the owner of Big M auction warehouse in Wilson, N.C.
We hold sealed bid auctions
HONEST AND TRUSTWORTHY
SERVICE
We will be GAP certified
A Holiday Gift for those with good memories of burley tobacco in Tennessee and North Carolina
Bill Harmon of Sugar Grove, N.C., grew burley for 51 years on the banks of the Watauga River. "It was the one crop you could just about be certain you would get rewarded on," he says. Read more about his experiences in "A History of Burley Tobacco in Eastern Tennessee and Western North Carolina."
Enjoy the recollections of

14 current and former burley growers along with a

detailed narrative recounting the history

of burley
stretching back to the Jamestown Era. It will be an ideal present for anyone who recalls the "old days" in burley with affection.
For a copy, send $25 to co-author Chris Bickers at 903-9 Shellbrook Ct., Raleigh, N.C. 27609. Or phone him at 919 789 4631 (email chrisbickers@gmail.com).